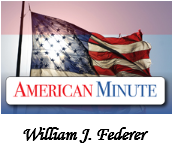 American Minute with Bill Federer
'If the citizens…place unprincipled men in office… government will soon be corrupted' -Noah Webster   
The most common form of government in all of recorded world history is monarchy, where only one person's vote really mattered – the king's.
In colonial America, landowners were granted a right to vote on certain issues.

This broadened to include those owning a certain amount of personal property.
After the Revolution, States gradually let those without land vote if they paid taxes, but many States continued religious and literacy tests.

In 1870, the 15th Amendment let former slaves vote.
In 1920, the 19th Amendment let women vote.
In 1924, American Indians could vote in Federal Elections.

In 1961, the 23rd Amendment let District of Columbia residents vote in Federal Elections.
In 1964, the 24th Amendment let vote those who could not pay a poll tax.
In 1965, the Voting Rights Act removed literacy tests.

On JUNE 22, 1970, President Nixon extended the Voting Rights Act to let 18-year-olds vote.
The Supreme Court, in Oregon v Mitchell, limited this right so the 26th Amendment was passed in 1971 to confirm it.

President Nixon stated March 24, 1970:
"In other areas, too, there were long struggles to eliminate discrimination…
Property and even religious qualifications for voting persisted well into the 19th century – and not until 1920 were women finally guaranteed the right to vote."
Get the book, THE ORIGINAL 13-A Documentary History of Religion in America's First Thirteen States
On August 24, 1972, Nixon said:
"For the first time in the 195 year history of this country, men and women 18 to 21 years of age will have the chance to vote."
Noah Webster wrote in an article titled, Letters to a Young Gentleman Commencing His Education, New Haven, 1823:
"When a citizen gives his suffrage (vote) to a man of known immorality, he abuses his trust; he sacrifices not only his own interest, but that of his neighbor, and he betrays the interest of his country."

In 1832, Noah Webster wrote in his History of the United States:
"When you become entitled to exercise the right of voting for public officers, let it be impressed on your mind that God commands you to choose for rulers 'just men who will rule in the fear of God.'
The preservation of a republican government depends on the faithful discharge of this duty.
If the citizens neglect their duty and place unprincipled men in office, the government will soon be corrupted;
laws will be made not for the public good so much as for the selfish or local purposes;

corrupt or incompetent men will be appointed to execute the laws;
the public revenues will be squandered on unworthy men;
and the rights of the citizens will be violated or disregarded.
If a republican government fails to secure public prosperity and happiness, it must be because the citizens neglect the divine commands, and elect bad men to make and administer the laws."


Get the book, ENDANDERED SPEECHES-How the ACLU, IRS & LBJ Threaten Free Speech
Search AMERICAN MINUTE archives
News from AmericanMinute.com
Invite Bill Federer to speak – large or small groups – email wjfederer@gmail.com or call 314-540-1172
Visit the American Minute archive
Daily Reading at:
http://www.biblegateway.com/reading-plans/old-new-testament/today?version=NKJV
Receive American Minute on your Facebook wall, Twitter feed, or RSS reader.
Click here to make a donation. Thank you!

American Minute is a registered trademark. Permission is granted to forward. reprint or duplicate with acknowledgement to vwww.AmericanMinute.com

Invite Bill Federer to speak – large or small groups – email wjfederer@gmail.com or call 314-540-1172